Big Flats is "Unusual"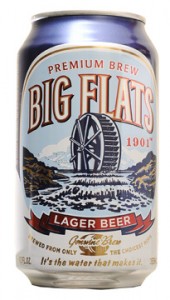 … at least it is according to The Wall St Journal in an article titled "New beer has same unusual name as upstate NY town."  The beer which is not actually brewed in Big Flats does have the town's name, but it's brewed in Rochester and distributed nationaly by a California company.
The brewery doesn't claim the Beer to be named after the town. From The Wall St Journal article: "…the company said the lager is named for the flatboats that plied upstate rivers to deliver goods to early settlers."
Well the town of Big Flats isn't named after flatboats, but rather it is in reference to… well, how it's kind of big and flat. I'm paraphrasing from the Big Flats Historical Society website. However, I would probably put a penny on the idea that the brewery didn't just come up with the phrase "Big Flats" referring to flatboats. It is a somewhat unusual name when you think about it. If it was named after a flatboat, you'd think there would be, you know… a picture of a boat somewhere on the can. And being that the brewery is in Rochester, it's not a stretch to think they've heard of, visited, or driven through the town of Big Flats. It would also be kinda weird to just randomly decide to use the word "Flat" in the name of a beer.
Whatever the case, it's pretty entertaining to see Steven Colbert talking about Big Flats from Colbert's website:  Click Here).