Poppleton Pastries Completes Me
A few weeks ago you may have heard that Poppleton Pastries was temporarily closing for updates. I checked it out yesterday, and what I didn't realize is that it's altogether new: new owners, new interiors, and new menu… And I dig it.
If someone asked me 2 days ago, "what would make your summer more complete?" My answer would have been, "Bubble tea and crepes."  With a variety of bubble tea flavors made with green or black tea, and a choice of pre-made or build-your-own crepes, the new owner of Poppleton Pastries totally nailed it. See evidence below: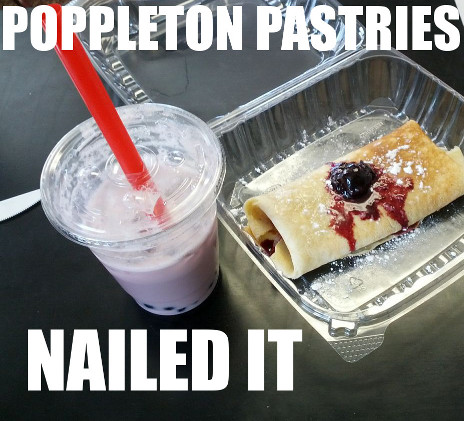 Quick bullet points about my past
2002-2005: I lived in Philly and was introduced to bubble tea by my then friend, now girlfriend, in China Town. Now we always stop when we happen across a place that has it.
2005-2009: Lived in Florida where entire crepe-only restaurants were popular.
Have any readers noticed that I love bullet points?
I'm just pointing out that
I'm not stretching the truth when I implied that bubble tea and crepes complete me
I also like to list things using numbers
Poppleton still has most of the staple recipes you love (e.g. scones, house cookies, etc…).  The notable exception is that you will no longer find the popular Finger Lakes Wine Cake. But don't fret, their pastries case was full of other awesomeness. And apart from the breakfast, lunch, and desert crepes, you'll also find soups, quiches, and grilled cheese.  Now run by a super cool mom & daughter team, Poppleton will likely be one of my new go-to spots.
Poppleton Pastries | 23 W Market St, Corning, NY 14830 | (607) 937-3311