Wanted: Sushi for Mouth | Tuna II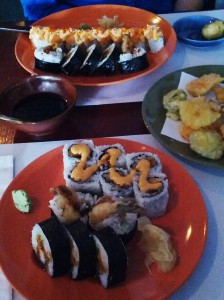 If you're a sushi eater, it is your duty to introduce a non-sushi friend to the delights of sushi rolls. Many people think sushi means raw fish. Bring this friend to a decent sushi bar (we'll get to that in a moment) and hook them up with a newb platter: California Roll, Shrimp Tempura, etc… As they start getting hooked, get more experimental. I feel like I used the word sushi too many times in this paragraph. Anyway…
Corning's has few sushi options
Bento Ya Masako: Only open on weekdays during lunch hours.
Three Birds: Fantastic sushi, but only available on Wednesday nights, and a bit pricey for a regular sushi binge.
Wegman's:  Not the best, but useful when you just need a quick fix to level yourself out.  Relatively fresh, but in my opinion, refrigerated sushi shouldn't cost the same as moderately priced made-to order sushi.
En En: Usually 2-4 rolls from vegi to crab (krab). Quality wise, similar to Wegman's. Price wise, it's all you can eat, so it's got that going for it… (En En recently did some refurbishing inside and out).
There's a missed opportunity in Corning. We have enough sushi eaters to support the occasional good sushi as well as full-time mediocre grocery store sushi ventures. Someone can and should be making a decent living running a small sit down sushi bar / restaurant on Market St.  Picture a couple good sushi chefs, a good priced lunch special, and a small dinner menu… I'd throw money at that Kickstarter campaign for realsies.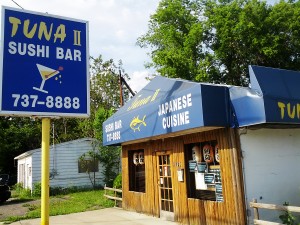 In the meantime however, there's Tuna II, a small sushi bar (w/ a full Japanese menu) in Horseheads that has great prices and sushi (also, check the specials board to the left of the entrance). Prices range anywhere from $4 – $13 for their various rolls. I've had a 100% success rate here so far.
The atmosphere at Tuna II is fun. Designed and decorated like a traditional Japanese house, you enter through 2 curtains (Noren), and the seating is quiet and comfortable. If I were to start rating places on scale that measured chillaxability, this would be the control at 10.
Tuna II | 1900 Grand Central Ave, Horseheads, NY 14845 | 607-737-8888