Cool Dude Makes His Mom Some Earrings
I know it's going to sound lame, especially coming from the coolest and best looking local blogger you know, but I  had an awesome night making earrings for my mom. Hear me out! I'm a terrible gift purchaser for ladies. If you don't just tell me what you want, or at the very least enjoy video games, I'm pretty much at a loss. I feel like flowers are an apology gift ("Sorry I didn't get you something better"). Well get ready to mark one up on the score board gentlemen…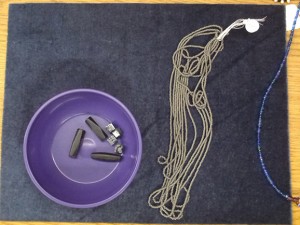 Soulshine Studio is a bead store on Market St that offers private lessons, daily group classes, and private parties. Think "Wine and Design," but instead of painting, you choose from a wide selection of beads to create anything from fancy earrings to fun bracelets (and yes, you can BYO snacks / wine). The store also sells nifty pieces by local artists like local steampunk designer and anonymous legend, Steampunk Sadie.
I went in with my girlfriend and made my mom a pair of earrings. My girlfriend made a necklace for herself because that's how she rolls. You might be thinking this all sounds too "crafty." Well hold up funky meatball, the idea of "crafts" repels me too.  Soulshine has a huge variety of beads, from local-made glass beads to shaped shell beads, and you can make some pretty trendy peices.  In fact, the owner, Ann Recotta, told me a lot of people come in to replicate trendy pieces they see in catalogs.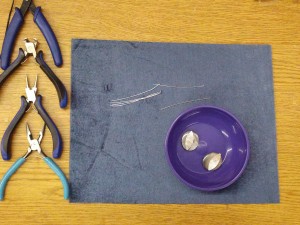 Catalogs? I don't need that ship, sailor.  I'm, like, not part of that whole consumer culture with narrow ideals of popular trends bro – you know man? My first step was to walk around and choose beads. My mom is a sailboat living beach bum, so I went with a simple 2 shells. One is shaped like a surfboard because she's learning to surf (in her mid 60s). Then, Ann walked me through the process of building my idea. Funny thing is, I initially chose to make earrings rather than a necklace because my brain incorrectly figured less beads = less work.  It was still pretty simple, but my earrings with 2 beads took longer to finish than my girlfriend's project, which was a necklace with a million tiny beads.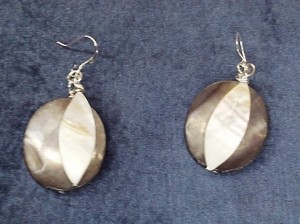 Stop in and check out Ann's own handmade jewelry; she does some killer beadwork. You can even do walk-in lessons if she is available. Or pick up simple prepacked projects to take home. She mentioned parties, and kids birthday parties were a big hit (give her 2-weeks notice). Check out her calendar for info on group classes, or call ahead to schedule a private lesson like the one I had.
Soulshine Studio | Soulshine-Studio.com | 88 E Market St, Corning, NY 14830 | 607-936-3159 | Ann's Etsy Store