Review: Cache Me if you Can, Locally Made Geocaching Board Game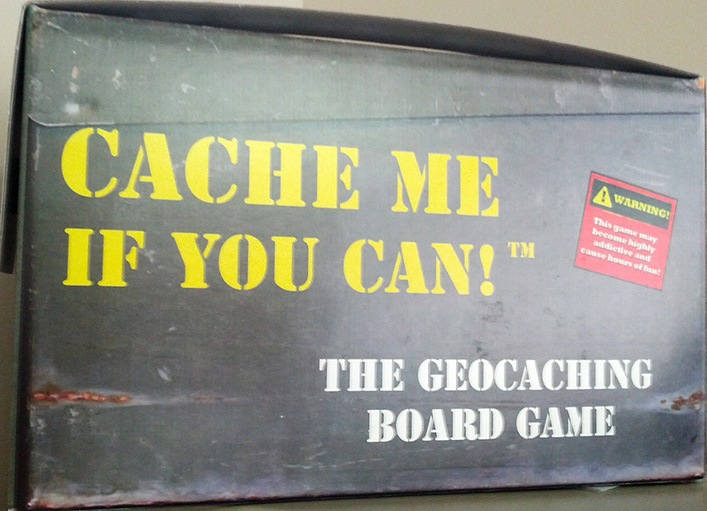 The first time I saw the box above, was at a booth during last year's Sparkle; I didn't stop, thinking they were going to ask me hike or do some sort of exhausting outdoor activity. I later learned that Cache Me if you Can! is a local-made board game which takes the experience of Geocaching (described as "the recreational activity of finding a hidden object by means of GPS coordinates") and turns it into something more my style: a card-&-board strategy game that anyone can play… from a couch.
Stripes McGee Destroys Lives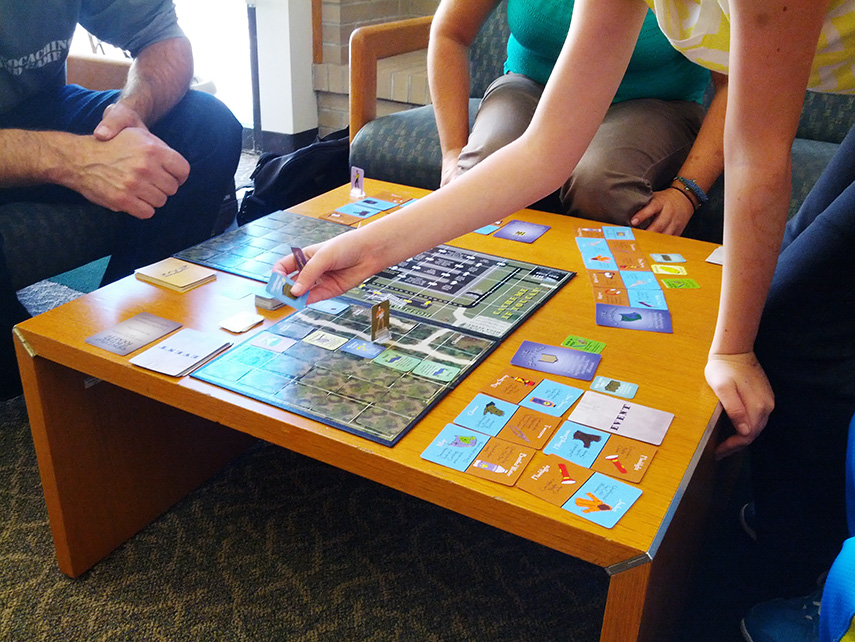 The second time I saw Cache me if you Can, was at the Steuben County Library, where I watched two of my friends in their 30s, get totally PWNed by a 10 year old girl.  We referred to this young game hustler as Stripes McGee, because she was wearing a yellow striped chevron shirt. Actually, Stripes McGee probably wasn't a board game prodigy, the gameplay is simple, and just knowing how your game piece moves is enough to start. It's a very accessible game for young and old players, with modes of gameplay that allow you to increase the challenge as desired. And who wears chevron anyway? That was totally 2012. Lame.
A Little Background
I spoke with the game's creator, Dan Hundycz (of DPH Games Inc. located on Market St), about the game's history and current success. Dan and his friends are actual Geocachers, meaning they are physically active and could probably beat me at arm wrestling, or at least leg wrestling if that's a thing… it should be a thing if it's not. Anyway, Dan's friend's son (did I hyphenate that correctly?) was having a birthday, and Dan went online to find a geocaching board game. There wasn't one, so Dan made his own. They had such fun playing the game, that Dan developed it, hired game testers, found investors, developed it further, and eventually it became Cache me if you Can™. Dan brings the game to conventions nationwide, and has even has distribution in Canada.
Gameplay & Strategy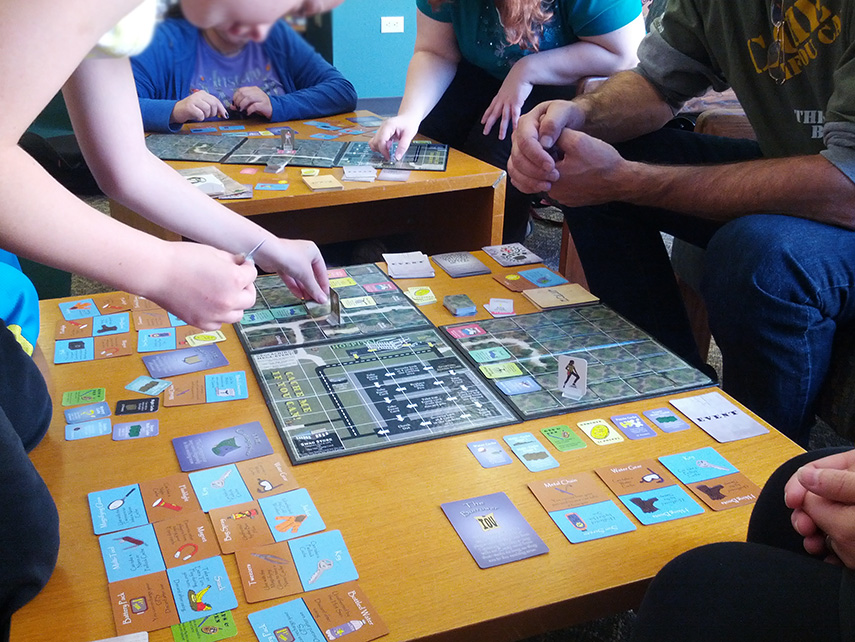 I believe the reason the game is so addicting is:
It's easy to play
The game board is constantly changing, and as a result…
Your strategy and goals are always evolving
The instructions are almost all card based, so just moving your character is all you need to get started. As you land on tiles or use your own tools & skills to help or hinder other players, all the hows-and-whats are answered on the cards as you play. Obviously, you won't develop a strategy right away, but that's precisely what will draw you in for repeat playing.  It truly is a unique and fun game.
Your game piece is a character, and each character has a different perk that can bend the rules. For instance, one character can steal equipment, while another player might be capable of moving diagonally. There are also equipment cards that allow players to capture points / caches with special conditions… so if a character lands on a treasure chest, if you don't have the particular tool card to unlock it, the players that do will rush to steal the points from you.
The coolest feature of the game, I think, is that the game board is in 3 separate pieces, which can be laid out in a countless number of ways. On top of that, each tile in the woods is a card, and as players capture points / caches, the tiles are replaced with a new unknown card, changing the game board as you play – cool! And don't forget to be on the lookout for bears, swamps, and other hazards that might send you to the hospital. Kind of like what would happen to me if I actually went geocaching… or just into the woods in general.
Expansion Packs – Zombies!!
[UPDATE: Zombie Apocalypse is out now!]
The game has several expansion packs in the works, such as the new Zombie Apocalypse! I won't reveal too much, as I'm not aware of all the intricacies of the expansion, but the gist is this: You're out in the woods doing your thang as hordes of zombies populate and thwart your geocaching efforts. If you can't defend yourself with a chainsaw or other weapon, you might become a zombie yourself. If that happens, you must turn your fellow players into zombies, in order to win the game.
Where to Buy The Game
You can pick up a copy of the game on Market St, Corning at Imagine That!, Mecca Books, or the Market Street Apothecary. If you're not local, pick it up Direct from the DPH Games Website, Amazon, or Facebook.