On Friday, May 30 at 4pm, Panasia will have its official ribbon-cutting ceremony. However, hundreds of people have already been through the door and the place is gaining momentum. I went just a day after the soft opening and was pleasantly surprised by the food.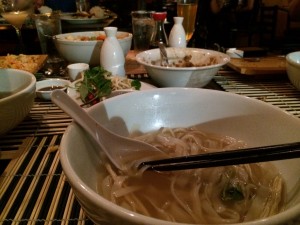 Servers were learning on the fly and their new P.O.S. system caused a little confusion, but now that they have a couple busy weeks under their belt, it's whirring like a well-oiled machine.
I've been there three times now and it's very clear that this restaurant will fit perfectly with the others on Market Street. The ambiance is fresh, the food is exciting, and the overall experience is delicious. Here are my top 4 reasons why Panasia is the perfect new spot:
You can't get this food anywhere else in Corning.
There are some dishes on the menu that really stand out because of flavor – the calamari, for example, is the best I've ever had – but the really exciting part about the menu is its unique selection. If you always dine out in Corning, you haven't recently had a chance to order lumpia, bibimbap, Vietnamese pho, or Szechuan baby back ribs. Now you can order any or all of these things, none of which will disappoint.
Even the live music is different. 
One of the features of Panasia is its comfortable lounge. There are plenty of couches and armchairs in this simple, dimly-lit section of the restaurant, and it's the place where live music is featured every Thursday night. The best part is that this particular music is not likely to resemble the "guiter-bass-drums classic rock cover bands" you usually find around town. Nothing against that music, but it's nice to have something different right on the street. Expect jazz, blues, and some original indie music when you stop in on Thursday evenings.
Your dining experience depends on where you sit.
Panasia takes up three entire store-fronts, making it the largest restaurant on Market Street. Still, it's easy to find some nooks and crannies that feel comfortable and help shape your overall dining experience. For example, if you sit at a table near the open kitchen, you'll get to watch and listen to the chefs as they "dance" through your dinner prep. You might also choose to sit at the sushi bar where your fresh, raw sushi and sashimi is prepared just seconds before it's placed in front of you. The lounge, the bar, and even the private dining room are all options, as well.
Panasia is perfect for the "I don't care" crowd.
Have you ever sat around with a hungry group of friends, none wanting to make the final decision on where you'll go to eat? If all you hear is "I don't care where we go," then Panasia is the place to go. Why? Well, some might consider it a downfall that they don't take reservations and they serve their food as soon as it's hot and ready (instead of all at once or in courses), although that makes it even more fun with a group of friends. Picture this: you show up with 6 people on a Friday evening and the hostess estimates a 45-minute wait. During that time, you all recede to the lounge area and find some comfortable couches from which you'll order a round of drinks and a few small plates to share. When the table is ready, you'll carry your next round to the dining room and start ordering the dishes that appeal to you. When they're ready, they'll be placed on the table one-by-one with chopsticks flying in and out, all around the table until the dishes are empty and the bellies are satisfied. It might not be for everyone, but it's worth a try by all because it's fun, exciting, and allows everyone to celebrate the average Friday night it might have been.
So my official recommendation: GO TO PANASIA! Go a couple times. Try something different. Sit somewhere new each time. Make it your own. The whole point is to enjoy yourself, go crazy. The staff is there to please and the food is there to impress, so if you don't leave with a smile and a full stomach, it's no one's fault but your own.