The Best Convenience Mart Ever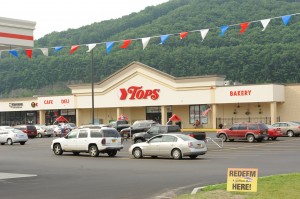 You know you've been urbanized when 1.3 miles to the grocery store is just too far. The new Riverside Tops opened last week and, already, it's changing everything.
This opening is the second of two long-awaited improvements in the bedroom community that is Riverside/Painted Post, making that gruelling two-mile commute from downtown Corning ever so much easier.
The first excitement was the opening of the new Benjamin Patterson Bridge in early June, reconnecting west Corning with Riverside. As a newcomer to the area, I now know the joy of careening across the Chemung River to the Painted Post exit, without having to hit the interstate or Pulteney, saving a ton of commute time. I wonder what I'll do with those extra six minutes in my day …
And now, well, NOW the bridge can deposit me practically in the parking lot of that new Tops.
I know, I know … This is Wegmans territory. I'm pretty sure Danny Wegman, and his whole family, loves us, and wants the best for us with their Food You Feel Good About and their commitment to local produce and organic offerings.
But options are nice. And on days when I need a quick dinner solution, Tops is winning me over. It certainly understands and appeals to it's Corning clientele; a lovely display of brightly-colored produced greets you to the left and the bakery is off to the right. Adult beverages are convenient to the door. There's a small cafe, a couple tables for outdoor eating and some delightful-looking grab-and-go lunch options.
With good lighting and compact, organized aisles, it is, as a friend posted to Facebook after his first trip, "the world's greatest convenience store."
And saving money is a nice option, too: bagged salad greens at Wegmans yesterday, $5 for 2; Tops, 2 for $3.59. Also, I don't have to contend with my urges for sushi, lawn chairs, new cookware and firewood.
And don't forgot Bonus Rewards for cheap gas. My first trip netted me .40 cents per gallon off at the pump.
Riverside is shaping up. The little Tops shopping plaza looks dramatically better with building renovations and parking lot improvements. There are just three more vacant, dilapidated storefronts nearby off Pulteney. Get some commerce in there and we'll look downright suburban. Might I suggest a Trader Joes and a Cheesecake Factory?