CATS at CPP High: Get there NOW!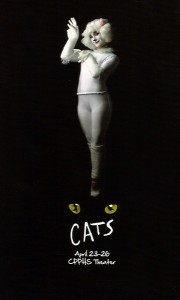 Guys, if you did not see CATS at Corning-Painted Post High School yet, you simply must drop what you are doing and go today. The last show is at 2:30 p.m.!
I left last night, speechless. First off, I hate that freaking show. I am one of those rare freaks who'd rather put a screwdriver through my eye than sit through Andrew Lloyd Webber.
But the set, costumes and makeup were Broadway quality. Not even exaggerating here. The acting, vocals and dancing were a triumph. I have never seen such a thing on a high school stage. Not one single kid was out of character. EVER. Those kids WERE cats. How choreographer Heather Haskins and director David Smith pulled that performance out of teenagers is beyond me. I was transported. I felt like I was seeing semi-pro theatre in a metropolis. I felt like, surely, I must be seeing a show at a performing arts academy.
Noteworthy performances include junior Kaitlyn Lembo's dancing as Victoria; junior Ethan Bratti's delightful ballet solo as Mr. Mistoffeles; senior Blake Hurlburt's dramatic portrayal as Munkustrap; a jaunty tap number led by Kelsey Amidon; a sultry "Macavity: The Mystery Cat" duet by Sydney Thomas and Amber Strong as Bombalurina and Demeter; and the thoroughly engaging song and dance of Mungojerrie and Rumpleteazer by sophomore Tommy Lynch and junior Meghan Mitchell.
I'd be remiss if I didn't mention the 18-piece orchestra directed by Judy Harriman-Carlson and technical direction by the legendary Jim Griffin and Jim Duffy. Like everything associated with this production, top notch.
And all this just weeks after a production of "You Can't Take it With You."
If you missed this show, just get on board for next year. Go like "CPP High Drama Club" on Facebook to stay in the loop. Next year promises four more plays and musicals with these young players. A few strong seniors like Hurlburt will be missed, but the club is young and its directorial/production team will surely mold fresh talent each year.
I am absolutely certain you will see some of these faces on stages far bigger than this one in our tiny town. Emotionally-invest now in your local school theatre; it's going to be so much fun watching these kids grow, and following what they do post-graduation.
It just goes to further demonstrate the singular opportunity CPP kids have in the newly combined high school. The former West and East high schools have melded together to create a theatre program- not just performances but a program– that is truly saturated with talent, ambition and dedication. It's going to be extremely competitive for starring roles, for sure, but the kids who earn a spot in the casts are going to get the chance to experience theatre that is truly worthwhile.
THIS is why I moved my family to this community from my nearby beloved rural town two years ago. Even the backstage stuff is unbelievable. The promotional photography and the program, by and under the tutelage of technology/yearbook teacher Michael Simons, is spectacular. These kids in this district get to participate in these epic undertakings that are so preparing them to have confidence and skill. It's all truly beyond words.
The last performance is in a few short hours so call the box office immediately and see if you can get in. 607.654.2816