We're Getting Social
Urban Corning has really grown over the last year, and we've had a lot of fun doing it. We've loved hearing what our readers have to say about our content, and we genuinely appreciate each and every one of the 4,151 people who have felt compelled enough to connect with us across social media. Seriously. You people are awesome.
But, with all of that said, we still felt like something was missing: Action.
Don't get us wrong, we're not perpetually sitting behind our computers writing stories about stray cats. We're on Market Street every single day; shopping, eating, drinking too much coffee and working our way through Hand + Foot's selection of fine bourbons. However, that's just us as individuals – not "us" as in Urban Corning, per say. But, that's all about to change this Friday when we introduce not one, but TWO new activities to Downtown Corning.
The Urban Arts Crawl
When our friends at The Rockwell approached us with the idea of starting some kind of downtown arts walk, we knew it was something we'd want to be a part of. After a few brainstorming sessions with the city's various arts and culture venues, the Urban Arts Crawl was born. This brand new event series is an opportunity for folks to get out on a Friday night and really enjoy the world class galleries, museums and community art organizations that call Downtown Corning home.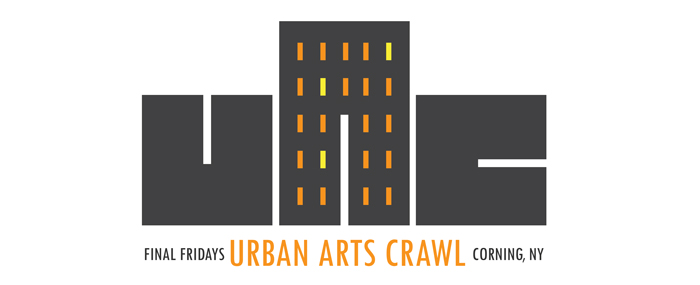 The Crawl (as it's been referred to), is a self-guided, art-centric experience on the final Friday of each month during the Winter, Spring and Fall. This Friday's crawl, the first of many to come, features stops at nine of Corning's most celebrated arts and culture locations, and showcases everything from contemporary paintings to folk art. In addition to the art itself, participating venues will offer unique "art-centric" experiences, artist talks and demonstrations, craft beer tastings, complimentary wine and hors d'oeuvres, live performances and even a string quartet – complements of the Youth Orchestra of the Southern Finger Lakes. For more detail, visit The Crawl's landing page.
Imagine something like a traditional pub-crawl, only instead of lukewarm beer and cheap shooters there's fine art and unique opportunities to enjoy big city culture in little Corning, New York. But, if it is beer and shooters you like, we've got something for that…
The First Ever Urban Corning Meetup
That's right. We're throwing a party. Well, more like hosting a social gathering at a third party venue, but that's just semantics.
Immediately following the Urban Arts Crawl, starting at 8pm, we're hosting the first ever Urban Corning Meetup at The Site. The Site has been a Northside staple for years, and the argument could be made that it boasts one of the finest selections of craft beers in the entire city. The place has 24 beers on tap and countless more available in bottles – without the snobbery and at surprisingly reasonable prices. Where else are you going to get an Ommegang Abbey Ale for $4.25 a pint?
If that's not enough incentive to enjoy a few drinks with friends (and us!) after taking in an evening of fine art, maybe this is: The good folks at The Site are offering an Urban Corning Meetup special – Buy one flight of beer, get your next flight half off. That's a deal we could really get behind, and we hope the same is true for you.
The plan is to have future Urban Corning Meetups coincide with other Urban Arts Crawl dates, and the locations are sure to vary. Check back in often to see where we'll all be meeting next.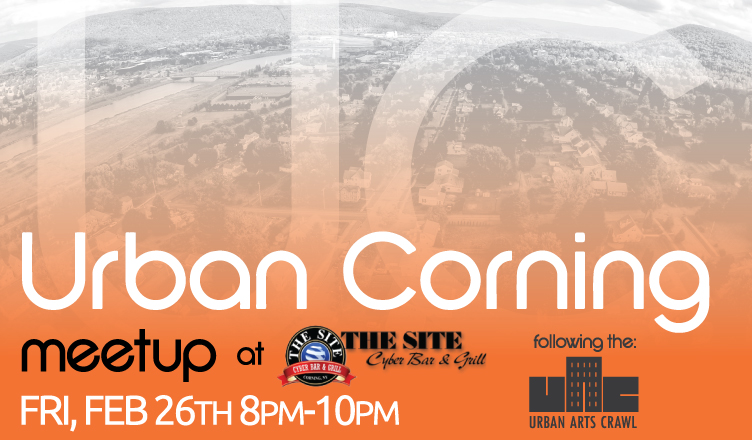 So, join us this Friday as we take in an evening of Corning's art and culture, and follow us to The Site for some good brews and lighthearted fun. You're sure to have a good time. We'll see you then, friends!