We're Getting Social – Again
What do fine art, hot glass, Hillary Clinton, Donald Trump, vodka, Market Street, a flute and a tuba all have in common? The Urban Arts Crawl, that's what. The second installment of the wildly popular Urban Arts Crawl is tomorrow, from 5-8pm, and it's promising all of the above and so much more. And yes – you'll really have a chance to get up close and personal with the potential future President of the United States… Sort of.
Okay, all jokes aside, tomorrow night's going to be a ton of fun. Below's a breakdown of what you need to know prior to The Crawl:
Seven locations, all on Market Street.
Five visiting artists doing anything and everything from meet-and-greets, Q&A sessions, gallery talks, demonstrations and public art projects.
Three unique gallery receptions, at Exhibit A, West End and The ARTS Council.
Two different political bobble head making stations at 60 E. Gallery.
Two different duets, one featuring a flute and tuba (seriously!) – courtesy of the OSFL.
One very good time.
Post-Crawl Meetup at VOLO
Immediately following the Urban Arts Crawl, starting at 8pm, we're hosting our second Urban Corning Meetup at VOLO. VOLO's been on Market Street for just about a year and a half now, and it's quickly become a Market Street staple and one of our favorite bars. And hey, if you like vodka, give the Corning Mule a try. It's basically a traditional Moscow Mule, but made with Four Fights Distillery's locally produced Crystal City Vodka. You can bet that we'll have one… or four.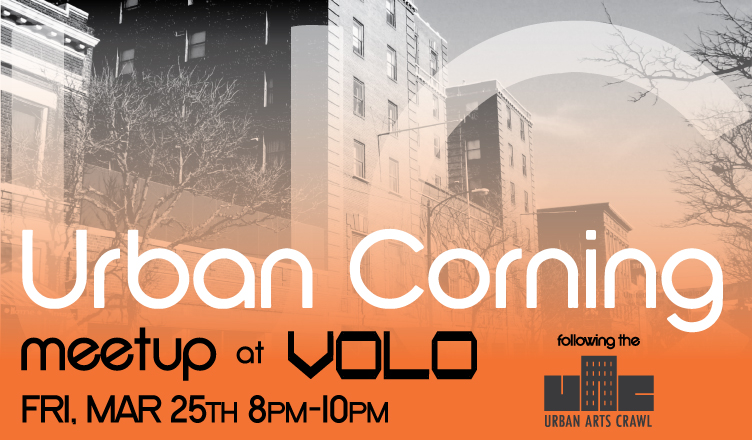 —
If you need more information about the Urban Arts Crawl, feel free to click HERE. Otherwise, we'll see you on The Crawl, friends!