An Urban Corning Guide To: Thursday Happy Hour
Today we share with you two incredible happy hour deals at Market Street Brewing Co. and the Radisson Hotel.
First, let's start with (probably) the best deal you can get on Market Street during happy hour. Market Street Brewing Co. offers $3 any pint of beer, Monday-Friday, 3-7. Yes, you read that correctly. THREE-DOLLAR PINT OF CRAFT BEER.
The blackberry lager intrigued me, so I ordered one of those and enjoyed every last sip of its goodness. Logan ordered the seasonal nut-brown ale, which reminded him of his time in London.
Our bartender, Abe, got us excited about the future of the brewpub's happy hours, teasing us with the possibility of a happy hour appetizer menu coming soon! So stay up-to-date with their Facebook page.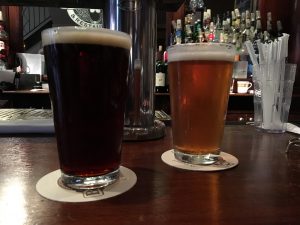 Next, we hit up the Radisson Hotel Corning and chatted with the bartender, James, for a drink. They offer $6 beer flights and BOGO apps for their happy hour specials.
Logan ordered the flight which included: Horseheads Brewing's Brickyard Red Ale, Southern Tier's IPA, Wagner Valley's Sled Dog Doppelbock and Grist Iron Brewing's 80 Shilling Scotch Export.
I was boring, and just ordered a glass of wine to finish off my night.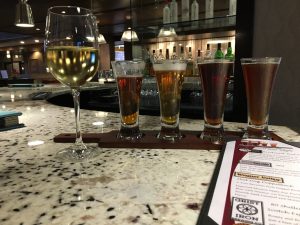 And thus wraps up our Thursday happy hour. Catch us next week for our final Urban Corning Guide To Happy Hour!