An Urban Corning Guide To: Tuesday Happy Hour
Happy Tuesday! Today we bring you happy hour options from Cap'n Morgan's and R&M.
We started at Cap'n Morgan's where they celebrated Mexican Tuesday. $4 Margarita specials, $3 corona specials, in addition to tacos, burritos, enchiladas, taco salads, quesadillas and Mexican burgers on the menu!
Of course I can't turn down a strawberry margarita, so I ordered one with whipped cream (YUM) and Logan ordered a Corona. We passed on ordering food (next stop!), but enjoyed the taste of summer while we were there.
Our bartender (and owner of the bar and grill), Denise, encouraged us to come back on a Friday for karaoke and other specials. Cap'n Morgan's has happy hour specials every day of the week! Check them out here.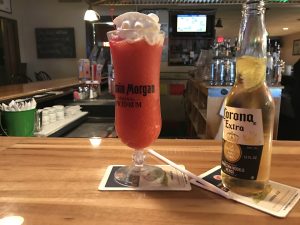 Our next stop landed us at R&M for their Tuesday specials. Here's a deal for you, the "Best Burger in New York" (named by newyorkupstate.com) is only $2 on Tuesday; along with $2 fries, and $2 onion rings! How can you resist that?! The best burger in Upstate paired with fries and a coke: GOLD.
Rejuvenated by their burger win, this place fills up around lunch and dinner rush times, so plan accordingly.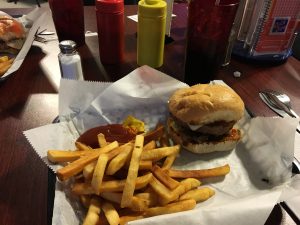 There you have it; margaritas and burgers, an unlikely match made in heaven.