An Urban Corning Guide To: Wednesday Happy Hour
Is this gloomy weather bringing you down? Hop on over to Wednesday happy hours at Mooney's Sports Bar and Grill and Atlas Brick Oven Pizzeria!
We started at Mooney's (they have happy hour Monday-Friday from 2-7!), where they have $2 domestic draft beers and $4 craft beers. Logan and I both ordered New Belgium Fat Tires.
Dan was at the bar and offered us a taste of New Belgium's new Ben & Jerry's Cookie Dough beer. It's astonishing how much you can actually taste cookie dough. A one-and-done kind of beer for me, though.
Unfortunately, we weren't ready for dinner, but I beg of you, if you haven't had their mac & cheese yet, GO.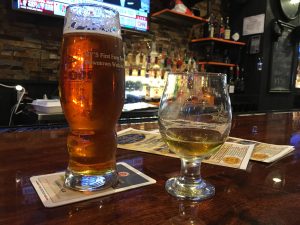 Next stop was Atlas. If you don't know already, they were named "Best Pizza in Upstate" by newyorkupstate.com, so there's a reason in itself to visit this place.
Atlas has happy hour Monday-Friday from 4-6. They offer $1 off drafts and signature drinks, in addition to 20% off appetizers.
As much as I wanted one of their many signature drinks, I knew I had to drive home, so Logan and I both ordered Shock Tops instead.
Atlas is an office favorite (it doesn't hurt that it's basically next door). Their upstairs space has a full bar with three flat screens that play your favorite games. It's a great place to wind down, but it's still family friendly with the many tables overlooking Market Street.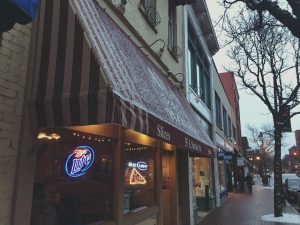 Wednesday happy hour sure is a treat: mac & cheese, beer, and the best pizza in Upstate. Dang.