An Urban Corning Guide To: Friday Happy Hour
TGIF. Although, honestly, I'm quite sad to see this series go; writing about happy hour has been the best project ever.
We're starting your weekend with happy hour specials from Cugini Italian Market and Cafe and Oak's Sports Bar.
Cugini has happy hour Monday-Saturday, from 4-6pm, with $1 off beer and wine flights, $2 off piccolo cheese boards and $4 off grande cheese boards.  Logan and I would never turn down a wine flight, so we indulged in that special. In the happy hour wine flight, you get three samples of wines of your choice. Now, when I say samples, I mean deluxe, beautifully large samples. For $9. Crazy! I enjoyed three different styles of white wine, while Logan went with the reds.
Our bartender brought over sharp cheddar and colby jack cheese samples while we were drinking, and we also tasted the new mocha flavored cannoli filling. YUM.
Our next stop was Oak's where Sean met us for a couple beers and some food. Oak's happy hour is on Friday, from 4-9pm, and they offer $15 buckets of domestic beers, where you choose any 5 domestic beers that they have.
Between the three of us, we assembled our beers and took a table. At this point, it's Friday, we're tired, we're hungry, and their bar food all sounds amazing. We decided to split the appetizer sampler. Now, I know this isn't a part of the happy hour, but come on, mac 'n cheese bites, mozzarella sticks, and fried pepperoni. You can't say "no" to that…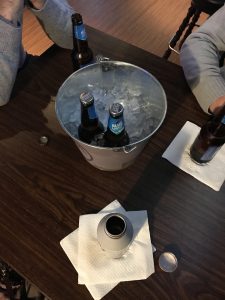 There you have it, five days of happy hours to fill your week with. Enjoy. Be responsible. And happy happy-houring!