Card Carrying Books & Gifts
Our dear friends are opening a book store! Card Carrying Books & Gifts is the perfect niche bookstore that Market Street has been waiting for. Join us in donating to their Indiegogo campaign and be a part of this incredible movement.
Take a read below as Sarah Blagg, one of the owners of Card Carrying Books & Gifts, speaks about the mission of the store and gives you an inside peek of what's to come!
---
If you've walked past 15 East Market Street recently (formerly the home of Flip Flop), you may have noticed a new sign in the window: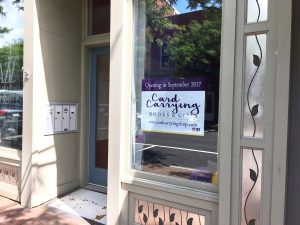 As I taped that sign to the window on a sunny Wednesday afternoon, I was grinning from ear to ear because I am so excited that Card Carrying Books & Gifts will indeed be opening this September! An independent bookstore that will feature "giftables" like tote bags, stickers, buttons, mugs, and statement apparel and jewelry, Card Carrying will cater to people who consider themselves socially progressive. Whether your passion is environmentalism, LGBTQ rights, racial justice, or feminism, Card Carrying will become your local bookstore when you feel like browsing.
"I was excited to get involved because Card Carrying will offer something for people of all ages," said my main co-conspirator (and Card Carrying investor) Randi Hewit. "The folks behind Card Carrying Books and Gifts want shoppers in their 50s, 60s, and 70s to feel comfortable in the space and find a book they might love but are also hoping to reach the younger generations – people age 13 through 40 – who want to wear their passions and their politics on their shirt sleeve."
I agree whole-heartedly with Randi. Supporting the next generation of activists is vital if we are ever going to see a more equal, affirming society. Our country is at an unprecedented crossroads, and the young people we know and love are more than aware of this; they are talking about it and they are tweeting about it. They care. And they deserve a community that welcomes their ideas and supports their passions. Our beloved Corning needs to ensure that the next generation of activists – and shoppers – see themselves and their interests represented in our downtown area. To be accessible, Card Carrying will offer gift lines with products that range from $1 to $40, and books that encourage new ways of thinking about our changing world.
Change comes from a community that encourages it. Card Carrying will be a place where people can meet up to chat, or sit in the window nook and read, or have a conversation while they shop. We plan on having monthly store events like Q-and-A's with contemporary thought leaders, feminist crafting nights, and movie discussions. Being a member of the American Bookseller's Association, we hope local book clubs will come to us to fulfill their book lists for them. There will be book-signings and feminist playlist nights, and of course we'll be participating in all of the great Gaffer District sponsored events!
The Card Carrying team is currently speaking with private investors and researching various grants and loan options. However, we are also seeking investors through an Indiegogo campaign. Community building and cultural change takes a village – or in this case, a small city – and I think the place I am proud to call home can be a leader in this. Donate today (no amount is too small!) and help us #createcardcarrying.
---
Follow them on Facebook, Instagram, and their website to keep up with future events!