Urban Corning is proud to partner with our friends, the Rockwell Museum and The ARTS Council, to present the inaugural Urban Arts Crawl.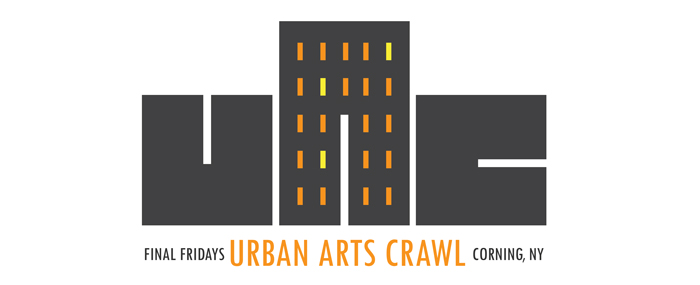 The Urban Arts Crawl celebrates the everyday opportunities to enjoy art and culture found throughout Downtown Corning, New York. As a self-guided, art-centric experience on the final Friday of each month during the Winter, Spring and Fall, from 5-8pm, the Urban Arts Crawl includes stops at internationally acclaimed museums and independent galleries alike. Artist demonstrations, wine and beer tastings, live music and more make the crawl a truly unique and entertaining experience. Plan to spend your evening on Historic Market Street with various social opportunities at local bars and restaurants post crawl.
Here's a helpful breakdown of everything you need to know.
When:
Feb. 26, March 25, April 29, May 27 (GlassFest Edition), Sept. 30, Oct. 28, Nov. 25, Dec. 30
Time:
From 5-8pm, each date.
Cost of Participation:
FREE!
This Month, Featuring:
171 Cedar Arts (171 Cedar St.) – Featuring a reception for LIFEFORMS, a glass exhibit in 171's Houghton Gallery. (Ending at 7pm.)
The Rockwell Museum (111 Cedar St. ) – Featuring live music by Louiston (5:30 – 7:30 pm), singer-songwriter and folk guitarist from Ithaca, NY. Also see AERIAL PERSPECTIVES OF THE AMERICAN LANDSCAPE, a special exhibit by glass artists, Richard Parrish.
Wine & Design (90 E. Market) – Featuring an opportunity to observe a private class, refreshments included.
60 E. Gallery (60 E. Market) – Featuring CONSTRAINTS AND TRANSCENDENCE, a glass exhibition by Eric Goldschmidt, Properties of Glass Programs Supervisor at The Corning Museum of Glass.
Exhibit A (22 E. Market) – Featuring an opening reception for two new glass exhibitions: Michael Rogers' SPILLFORTH featured in the main gallery and Joanna Manousis' FIGS AND URNS on view in the back gallery.
West End Gallery (12 W. Market) – Featuring A TOUCH OF GLASS, a special exhibit on view during GlassFest showcasing 12 local glass artists. Also enjoy a live artist demonstration by Kari Ganoung Ruiz and complimentary hors d'oeuvres.
Orchestra of the Southern Finger Lakes (52 W. Market) -Featuring the return of 441 String Quartet, comprised of musicians from the Youth Orchestra of the Southern Finger Lakes.
The ARTS Council (79 W. Market) – Featuring SEEING LIGHT, a juried glass art exhibition with works by 24 regional artists. The evening also includes artists talks by Jessi Moore, Aric Snee and Connie Zehr.
** Please note: Some venues are participating in the GlassFest Wine & Beer Tasting. Participation in the tasting is only available with the purchase of a wristband. Learn more information, HERE. **
The galleries and art venues that dot the Urban Arts Crawl are complemented by many independently owned businesses, offering anything from artisanal chocolates and locally roasted espresso to seasonal menus and comprehensive wine lists – to ensure that your participation in The Crawl is a full-fledged experience.
Once you've gotten your fill of culture and art-centric excitement, join us at Hand + Foot as we host a post-crawl social meet-up. Stay tuned for updates, as the post-crawl meet-up location will rotate after each date.