Welcome back to a new season of Urban Arts Crawl – now happening on the Final Friday of EVERY month!
Artist talks, demonstrations, exhibition openings, modern dance performances, public art projects, live music, craft beverage tastings and more make The Crawl a truly festive and diverse experience. Whether you're a seasoned art collector or just out to see something different, the Urban Arts Crawl in Corning will spark your creative side.
---
Next Crawl:
November 30 – 5pm to 8pm
Post-Crawl Meetup at the Radisson Hotel Corning – 8pm
Featured Stops:
171 Cedar Arts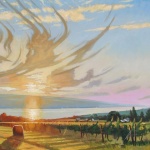 A new exhibition, Luminous Lakes by Brian S. Keeler, will open on November 30. In addition, Brian's band Zingology will be performing through the evening.
Light hors d'oeuvre and beverage will be provided.
Rockwell Museum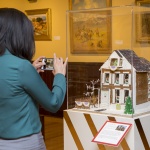 Continuing a spirited tradition at The Rockwell Museum, The Gingerbread Invitational is an artful competition and exhibition with a focus on historic landmarks and architecture of Corning and the surrounding region – in gingerbread – this year with a futuristic twist. With the help of a panel of judges, we'll award prizes, and guests will have a chance to cast their vote for Community Choice Award (winner announced in January 20197). Come dressed in your favorite sweater for sweet treats and holiday fun! Awards announced at 6 p.m.
West End Gallery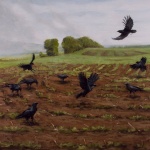 Please join us for an oil painting demonstration by Bibi S. Brion.  Bibi was born in Amsterdam and currently lives in Northern Pennsylvania. Always a self-starter, Bibi has performed in rock bands, worked in media and the fashion industry. She has been a regular columnist in the Williamsport Sun-Gazette, is trained in graphic design and is a self-taught oil painter. Be sure to check out her featured artwork in the current exhibit, "Masterpieces – A Collection of Kick*** Artwork" while you're here!
Card Carrying Books & Gifts
Stop by Card Carrying to make your favorite person a hand-crafted card for their birthday or the holiday season. All supplies will be provided, as well as complimentary snacks! Come get creative with us!
Look for the orange balloons!
---
Urban Arts Crawl is made possible by the Radisson Hotel Corning

Proudly presented by:
The Radisson Hotel Corning, The Rockwell Museum, The ARTS Council of the Southern Finger Lakes, and Urban Corning.