Welcome back to a new season of Urban Arts Crawl – now happening on the Final Friday of EVERY month!
Artist talks, demonstrations, exhibition openings, modern dance performances, public art projects, live music, craft beverage tastings and more make The Crawl a truly festive and diverse experience. Whether you're a seasoned art collector or just out to see something different, the Urban Arts Crawl in Corning will spark your creative side.
---
Featured Stops in April

Finally Spring! [April 27, 2018] – 5pm to 8pm
ARTS Council of the Southern Finger Lakes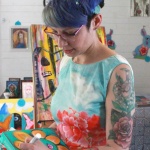 As is fitting for spring, The ARTS Council is playing with the theme of Transformation during the April Urban Arts Crawl! The gallery will feature the work of solo artist, Filmena Jack in her must-see exhibition, "We Are Called." We will also feature Bill Groome performing his interpretation of "The Guitar Goes to the Movies," music from the movies for solo guitar including selections from the Wizard of Oz, Star Wars, Titanic, On the Beach, When Harry Met Sally, and more!
And, to amp up the concept of Transformation, we're asking people to bring "words of hate" to The ARTS Council in order to have them transformed into "words of love" for a project called  "Transform Words of Hate." The words of hate that have been swirling around all of us in print or social media, in our families, work or places of worship can be brought to The ARTS Council in any physical form you want. Rip out a page from a magazine or print off a screen shot of a website or simply write a list of the words. We'll be accepting them at The ARTS Council from April 23 through April 27. Then during the Urban Arts Crawl on April 27, we will ritually cut them into individual words and place them in a vessel.
On the magical day of May 1, we will ritually process from The ARTS Council to the Bare Bones Cafe at the Rockwell Museum where we will scatter the words throughout the room and ask participants to scoop them up and transform them through poetry (or other means) into words of love. Be a part of the Transformation!
The Rockwell Museum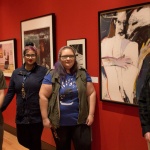 This month, two great art series come together as we launch into Bare Bones Café, a 16-day community-sourced museum experience. The Rockwell is pleased to once again partner with Corning Community College Theater Department. Student writer/director Katie DonDero used Rick Bartow's Dog Deer and Me as inspiration, bringing the painting to life in a dramatic interpretation. This encore performance will take place twice during the evening, starting at 6:00 and 7:00 p.m.
West End Gallery
Please join us for the final day to view our current exhibit which features the artwork of Alan & Rosemary Bennett, James Ramsdell, Marc Rubin and Judy Soprano.  Light refreshments will be provided.  We'll be handing out special invitations to Arts in Bloom: A Steuben County Arts Trail that will feature 10 Artist Demonstrations at West End Gallery.  Featured Artist, Judy Soprano, will be among the Artists doing demonstrations.
171 Cedar Arts Center
Visit for a special exhibition by Dan Reidy and P. J. Zimmerlink.
---
Urban Arts Crawl is made possible in part by Swan Morss Insurance
Proudly presented by:
The Rockwell Museum, The ARTS Council of the Southern Finger Lakes, and Urban Corning.