Holiday Valley Ski Resort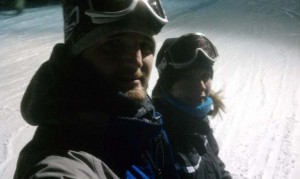 I finally had time to hit the slopes this winter. I went to Holiday Valley (6677 Holiday Valley Road, Ellicottville, NY) on a busy, but not overly crowded Sunday.  I ripped some serious slopeage as they say… ok, maybe no one says that.
Like me, Holiday Valley is awesome. It's by far my favorite ski resort in this area. I'm often surprised when I'm telling my fellow Corningites (CornHolers? CornDawgs?) about it and they have either a) never been there or b) never heard of it.  Well if you're one of those deprived individuals, read on…
Holiday Valley is located about 2 hours west of Corning (Greek Peak is about 1.5 hours away; the extra drive is well worth it). Compared to every other ski resort in the area, Holiday Valley one-ups them all. It's bigger, better managed, and beautiful.
Trails & Lifts
A whopping 58 trails and 13 lifts makes spending a little extra for an 8 hour ticket worth it. (Greek Peak has 32 Trails). One of my favorite things to do at Holiday Valley is explore.  I'm not one to try to conquer a mountain slope by slope. If I like a trail I'll ride it a few times before I move on.  Taking a side trail here or there often leads to another part of the mountain I didn't even know existed. All but a couple of the lifts are quads and a few are "high speed." This keeps you on the slopes and out of lines. I've never felt that it was crowded, even though the parking lot was filled to the brim this trip.
The variety of trails is fantastic, with everything from calm wide trails to fast trails through forested paths. It is not as steep as Greek Peak. I found that Holiday Valley black diamonds are doable for an adventure-seeking moderate skier.  Of course I have to mention the double black trail "The Wall," which is exactly what it sounds like. If you head over to The Wall and get scared last minute (you will), there's a green you can take around to the bottom (which for a shame trail, it is actually quite nice).  And that brings up a good point; all the lifts bring you to a  variety of trail levels. You'll never get to the top of a lift only to find black diamonds. A newbie who has mastered the snow plow (aka "the pizza") would do fine exploring. For the non-newbie snowboarder, there are a few terrain parks as well.
The Amenities
There are at least 3 mountain lodges.  One has 2 sports bars on either side of the main dining area (this is the main / base lodge).  Oh and here's a tip I discovered 5 minutes too late. I ate in the cafeteria and then went to one of the bars to find they had a cooked-to-order menu (Chicken Wings, Fish & Chips, Roast Beef Sandwhich, Nachos, and a few other things).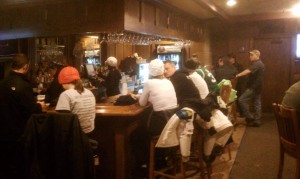 The lodges are kept up well. You know that depressing A-Frame at Greek Peak with their low-grade cheeseburger patties that seem as if they've been soaking in lukewarm water all day? Well if your used to that, it'll seem like the lodges at Holiday Valley are Zagat rated establishments.  They have decent cafeteria style food, bars, cafes, and a bunch of other options.  They have good food, but get an early lunch; I recommended getting dinner in the town of Ellicottville.
One of these days I am hoping to stay the night at the Inn at Holiday Valley or the Tamarack Club.  The Heated Outdoor pool and hot tub sound right up my alley.  But there are other options like rental condos or local bed & breakfasts. An overnight stay would be well worth it because Holiday Valley isn't all the town has to offer.
Ellicottville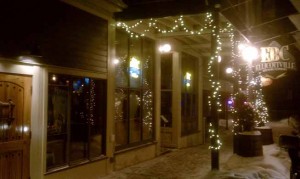 Just a quick 5 min drive into town, is the quaint little ski village with shops and restaurants.  I've purchased some gear at a local ski shop and eaten at a couple different places. Saving up your money / hunger for a good dinner is well worth it. A few bars here in Corning carry Ellicottville Brewing Company beer, and you'll find this brewery / restaurant right downtown in Ellicottville.  The food there is fantastic. My favorite thing so far has been the open faced Reuben (a restaurant specialty). But I've had the Bruschetta (AWESOME), Mussels (AWESOME), and Apple Goat Cheese Salad (ALSO… AWESOME).
Visit for free
Stay tuned to this blog. I'll be giving away a Holiday Valley lift ticket in the near future.