Wine and Design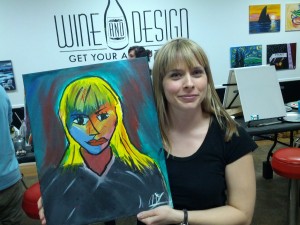 My girlfriend and I went with another couple to check out Wine and Design this past week. We appeared with wine (it's BYO), and were given cups, art supplies, and instruction.  Scheduling is done by reservation via their calendar, and classes are about 2 hours.
So how do you go into a studio with no prior skills, get tipsy, and leave with a masterpiece? Well, this was couples night, so while I have nothing else to compare it to, I believe there was one element not found in other W&D classes; the stakes are high. The project tonight was to paint the face of your significant other, who is sitting across from you. It could get ugly, and for one couple in particular, it did…
First let's back up. I don't want to give too much away and ruin the experience for first-timers, but I will say the instruction is great. I have never taken a class in painting. In fact, the only objects I know how to draw are: an eyeball, a forest of trees with no tops, and these Christmas Bulbs I drew by tracing frying pan lids (very proud of that one). Where was I?… The owner Kylene steps you through the process and gives you pointers.  Pointers that first timers like us didn't consider… such as, rinse your paint brush off in your water cup, not your wine cup (it happened).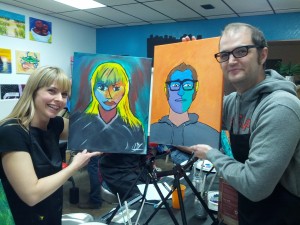 We didn't reveal our paintings to each other until the end. But everyone in the class started taking notice of a possible train wreck in progress.  A boyfriend was doing a great job painting the background and hair of his girlfriend. I was impressed.  But then, it was almost as if you were watching the alcohol take effect in his brain, the time came to paint the facial elements (eyes, nose,… mouth).  For some  reason known only to him in that moment, where her mouth should have been, he painted a basketball…. Her mouth… was a basketball.
They seemed to have pre-agreed to go Syracuse themed (both of their paintings donned "CUSE" shirts). However, he went a step farther by applying team face-paint, and of corse the whole basketball as a mouth thing…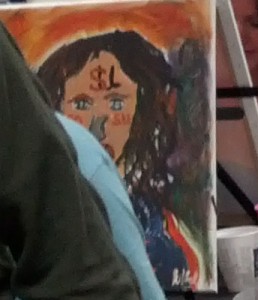 Unfortunately, the only image I have is this cropped one. But better than seeing the painting, is seeing her reaction! Check it out over on the Wine and Design Facebook page (you can also kind of see the basketball mouth in the group shot – top left – within that photo album).
Wine and Design | 90 E Market St, Corning, NY | 607-738-6884