An Urban Corning Guide To: Monday Happy Hour
Over the next five weeks, we will be bringing you the best happy hours of the Gaffer District. So come out and celebrate at these awesome locations and enjoy their sweet specials!
Starting off with a pick-me-up on a Monday…
We started at Tony R's, which has happy hour from 4-6. They have $5 martini specials on Mondays, but they also have 25% off bottles of wine from 4-6 on Mondays-Fridays.
Since it's nearly impossible to pass up a $5 martini, Logan and I both ordered one. Logan ordered the Baron Martini, which was just a lot of vodka, with a couple cheese-stuffed olives and salt. I, enjoying the fruity sweet drinks that I do, went with The Centerway; which is just a "Sex on the Beach" in a martini glass. It tasted a lot like college.
We got there around 3:50; not realizing happy hour didn't start until 4. Regardless, Ivy was there ready to serve us and start our "Monday Funday." The staff was great, and we also very much enjoyed the party mix to munch on with our martinis.
Next, Sean joined us and we hit up The Cellar, a favorite amongst everyone at the office. One of the most wonderful things about The Cellar is that they have Taco Tuesday AND Taco Monday! WHAT?! Obviously, we got tacos. Sean and Logan paired beers with their tacos. Logan ordered a Goose Island 312 Urban Wheat Ale, and Sean ordered a Maine Beer Company Mo. I had to drive, and I had dinner plans, so it was a water with lemon for me, plus a taco- obviously.
Kyle was our bartender, and also a good friend of the guys in the office. We shared fun conversation and laughed a lot, what more can you ask for?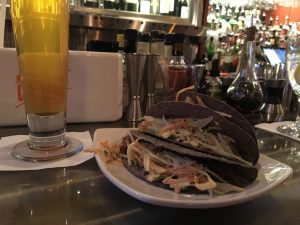 I highly recommend ending your Mondays with happy hour at Tony R's and The Cellar; awesome company, tasty drinks, and tacos. You can't beat it.